Barbara Butler Artist-Builder


Barbara Butler Artist-Builder designs and manufactures custom play structures and furniture for private and institutional clients. The company's products are characterized by their vivid colors and innovative materials, and their client roster includes The Walt Disney Company and FAO Schwartz.



becker&mayer!



becker&mayer! is one of the foremost book producers in the United States, as well as a leader in creating original juvenile products in the "book-plus" category, incorporating plastics, electronics and other materials for unique results.



Chronicle Books



Chronicle Books, one of the most admired publishing houses in the country, produces and distributes a wide variety of books and related gift products, with particular emphasis on fine art titles, cookbooks and modern culture.



Edwin Hamilton Stonemason



Based in Sonoma County, Edwin Hamilton Stonemason produces stonework and sculpture of unmatched beauty and craftsmanship. Commissions include landscape and structural works for private residences in Sun Valley, Idaho, and Big Sur, as well as institutions such as San Francisco's Strybing Arboretum.



Expedition 360



Headed by Jason Lewis, an Englishman following in the grand tradition of British exploration, Expedition 360 completed the world's first human-powered global circumnavigation. The project combined educational, multi-media, Internet and non-profit elements.



Marcus Shelby Jazz Orchestra



Marcus Shelby Jazz Orchestra, led by acclaimed bass player and jazz scholar Marcus Shelby, has created and performed major original works, including Port Chicago, a suite for jazz orchestra based on the 1944 Bay Area naval disaster and mutiny, and Bound for the Promised Land: Harriet Tubman, a jazz oratorio on the life of the famous abolitionist, both based on literary works.



SFMOMA Artists Gallery



Located at Fort Mason, the Artists Gallery of the San Francisco Museum of Modern Art continues to pioneer the rental and sale of contemporary works of art. The Gallery represents many Bay Area artists and sculptors, making their works available to private individuals as well as legal and corporate clients, including film studios shooting on location.



Summertime Films



Founded by former professional car racer Norm Hunter, and based in Marin County, Summertime Films has released its independent family-oriented feature Her Best Move.



Tamiland



Photographer Tami DeSellier specializes in art-quality black-and-white baby portraiture.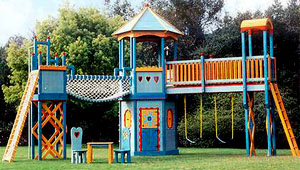 Custom play structure created for the Walt Disney Pictures film "Bicentennial Man" by client Barbara Butler Artist-Builder.